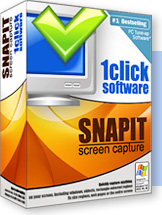 SnapIt Screen Capture 3.7
I know this doesn't have anything to do with fishing ... but this little program is great because it allows you to easily capture anything on the screen including windows, menus, full screen, rectangular regions, web pages and take shots of moving images. You can then stick it in a Word or Excel document. You can utilize it to add content to another website ... whatever you need or want!
- Supports hotkeys, auto-saving, clipboard
- Automatically copies screenshots to the clipboard
- Tracks capture history, auto-saves captured images
- Saves files in BMP, GIF, JPEG, PNG and TIFF formats
- Auto-names captured images
And the best part ... you can have it for free if you create a review in any blog/forum/twitter/facebook, etc, and then contact
julia.taylor@digeus.com
with link to the review, and then she will issue a reg code and name for you. It doesn't get any better than free!